Words/Photo:  Claudio Caluori.
The National Cycling Federation Swiss Cycling, based in the Velodrome Suisse in Grenchen, wanted to add another training facility to their headquarters. It had to be a full asphalt BMX training track with Olymic sized start tower, a Velosolutions asphalt pump track, beginners jumps, plus a sprint and exercise area, all together on 8000m².
Once again, Velosolutions couldn't resist the challenge and took it. It turned out the biggest challenge was not the actual construction of the tracks, but the drainage of the whole area. The ground in the area is 100% clay that does not drain any water, which means that a full drainage system had to be layed out to the next creek.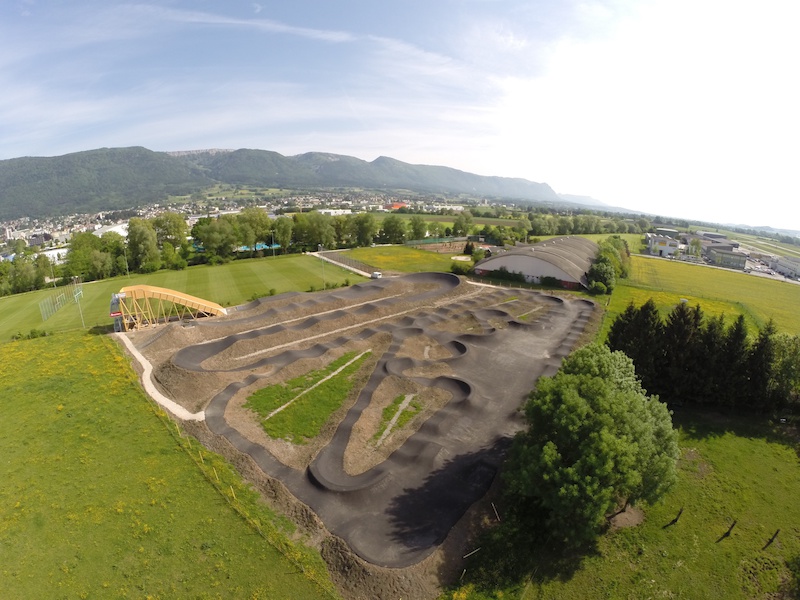 More than 5000m³ of gravel and 500 tons of asphalt were shaped up within 8 weeks to become one of the biggest tracks of its kind. We started the work with only 2 workers on site, and had 16 people on site when the asphalt was brought in. Since there was no access for trucks to drive the start tower to its place, it was flown in by a Super Puma helicopter.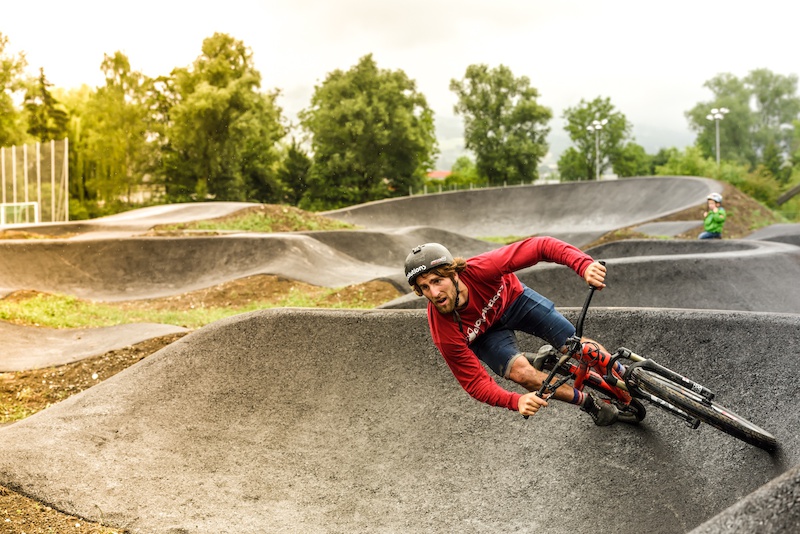 The BMX track has two starts. One for beginners and kids, one for the pros who are training for the world cup. Only the 8m tall start ramp is restricted to the national team, all the rest is open to public. The training track is made for 4 racers only, in order to safe some space for the pump track. It was impossible to keep the kids away from the track until the inauguration. As soon as the asphalt was layed out, the kids were on it and loving it.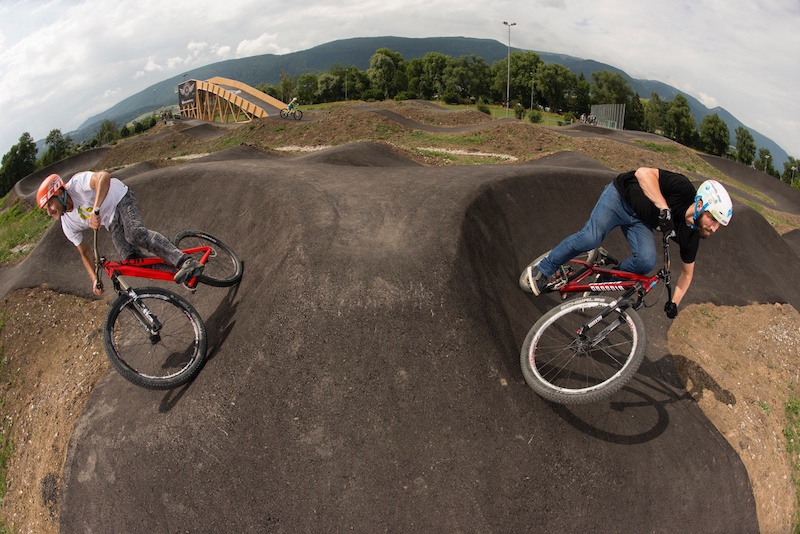 Timo Pritzel, Adrien Loron and Xavier Pasamonte showed us what's possible on the track at the inauguration in the pouring rain! When the rain got too hard, they had a quick go in the Velodrome Suisse to get rid of some leftover energy together with Gstaad-Scott's Neko Mulally, who came to have a look at the pump track as well after the world cup in Leogang.
Even big names like former road pros Cadel Evans, Toni Rominger, some famous soccer players and politicians attended the official inauguration!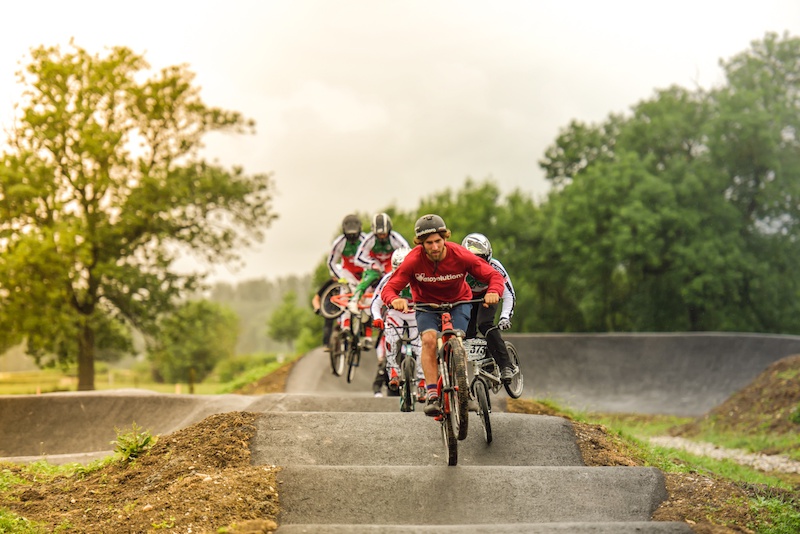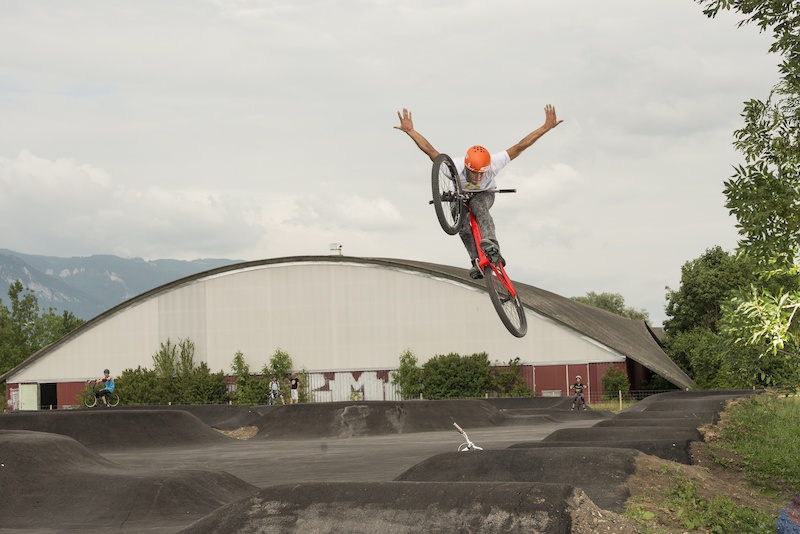 Velosolutions says BIG THANKS to Swiss Cycling, Velodrome Suisse and all the amazing people in Grenchen, who made our work a lot easier with their help!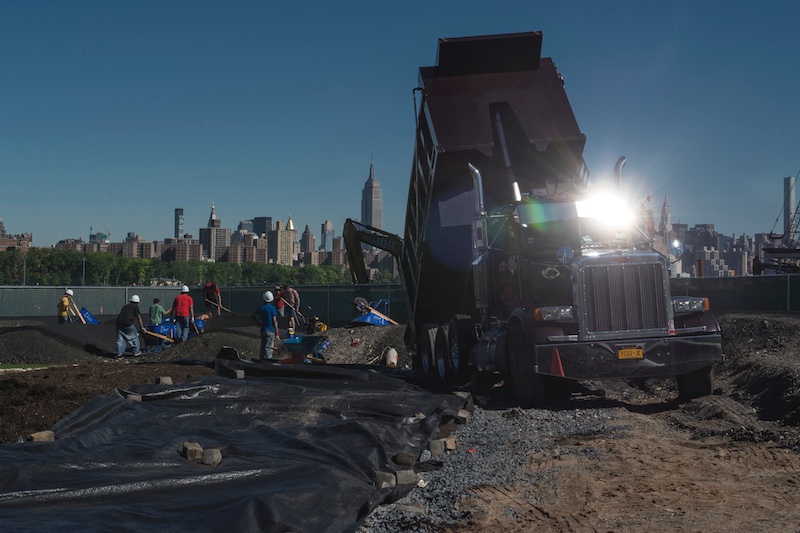 And while the kids are riding in Grenchen, Velosolutions is on a new adventure overseas…